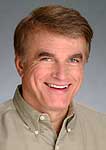 Airs Saturdays
from 6-7 am EST
Good Day Weekend With Doug

Here's a great solution for those weekend "best-of" doldrums…it's Good Day Weekend with Doug Stephan, two hours of the kind of programming your listeners and advertisers are looking for. Good Day Weekend is personality talk radio with the focus on Health, Wealth and Home.
Broadcast LIVE Saturday mornings from 6-9 AM Eastern, Good Day Weekend features three of the most important topics to your audience:
In the Health hour we'll feature a variety of weekly guest hosts who are experts in the field. We'll discuss health issues, medical questions, plus diet and exercise.
In the Wealth hour We will bring your listeners up to speed on personal finance, investing, real estate, retirement, and a whole range of other important financial topics.
In the Home hour special guest hosts will offer tips on home improvement, gardening, decorating, pets, and anything else that has to do with the home.